BOOKS
STORE
BIOGRAPHIES
of Evangelist Charles G. Finney
---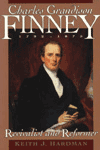 CHARLES GRANDISON FINNEY, Revivalist and Reformer; by Keith J. Hardman, pub by Baker Book House, 1987. "This book is valuable for telling about some of Finney's associates; such as Mahan, the Tappans, and Theodore Weld. We learn a lot about Finney's Times. However, the author is out of touch with the spirit of Finney. The author does not recognize the great work of God that made Finney successful. The book is theologically shallow.The author blindly sides most often with Finney's theological critics among the Old School Calvinists. The author tends to a humanistic interpretation throughout."--reviewed by L.G. Parkhurst, March 1992.
NEW, paperback, 521 pages, indexed. $10.00
Remember: All Prices INCLUDE Postage and Handling
---
CHARLES FINNEY, The Great Revivalist: a publication in "HEROES OF THE FAITH" by Barbour & Co. Written by Bonnie C. Harvey, it is a good easy read. She seems to have captured the various aspects of Finney's beliefs and Revival Activities.
NEW Trade Paper paperback. 203pp. $5.00
Remember: All Prices INCLUDE Postage and Handling
---